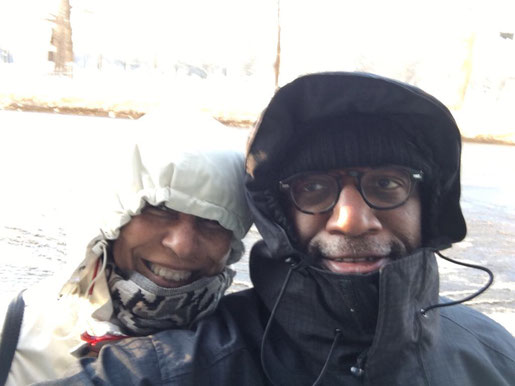 I imagined that I would engineer my retirement in early to late spring of whatever year, just as the days were getting longer and warmer here in the mid-Atlantic.  I reasoned that this season of growth would have an equally hopeful impact on my ability to manage the variety of moods I would surely experience as I transitioned to my new life.  I would be able to spend time in bringing my container garden and courtyard to life — maybe even plant veggies for the first time.  I would travel and be fairly assured of great weather.  I would wake up early to the birds singing and exercise or play a round of golf.  I'd stay out late with the sun enjoying street fairs and dinner alfresco.  After a couple of months of shear freedom, I would buckle down to focus on getting my coaching certification and building my practice.  My vision was so real I could taste it!  
But then, opportunity met preparation, and it wasn't in the spring, summer or fall, but, in the "dead" of winter in Philadelphia. In fact, just in time for the "bomb cyclone"!  I wasn't going to let the opportunity pass me by so I immediately set about reshaping my vision. What I found was that my transition was equally as delicious as if it had followed my dreamscape!  One year in and the feelings of loss (of routine, work friends, income), boredom (having a packed schedule everyday) and regret (what was I thinking?!?) that I expected to naturally surface as part of the change process have yet to materialize.  
 "Be INTENTIONAL about what you wish for!" —as a goal, a dream to be realized.
I am a big believer in rituals and celebrating life's events.  Retirement was a big step for me and I felt it required recognition.  So my husband planned what I affectionately called the "Freedom Flight". I left my job at 2:00 pm on my last day and was sitting at the airport just hours later with a celebratory glass of wine waiting for our flight bound for Amelia Island (our happy place).  We didn't stay too long, but long enough for me to feel that warmth (as if it were spring), to play a round of golf, to sleep-in on a weekday and to view the sunrise over the Atlantic Ocean.  I was beginning to get a taste, an amuse-bouche, of my new found freedom.    
Other than those few days, I hit the ground running by immediately enrolling in a coaching certification program.  So while I felt some of the freedom of retirement, that program provided a bit of structure and introduced me to a whole new world of dynamic people from all over the world.  I truly believe the program helped ease my transition into "retirement".  I never intended to stop "working", just to shift the definition in a way that aligned with how I wanted to live.  The remote learning program allowed me to travel and be fully present with family. I have been able to spend time with my 99-year old mother in Boston and our grand-children in Houston. 
The transition wasn't all rosy.  I was struck by how intertwined our lives are with our jobs — if we're lucky!  It's true, my-former employer had the Cadillac of benefits at great rates (from healthcare, to family cell phone discounts). It was no small feat transitioning these benefits. All this resulted in literally hours and days online and on the phone in constant follow-up. Much to my surprise, I learned that many retirees face similar bureaucratic hurdles upon retirement.  Be prepared!
The good news is it's all behind us now and while we will pay more for some things, we also uncovered some great deals for people of "a certain age" (shout-out to T-mobiles 55+plans).  I even gave into reality and joined AARP for the discounts and then realized they really do provide critical information on a range of topics.  That is, if you're not too vain to engage!  
On balance, we were prepared and I know for sure that I made the right decision.  I am acutely aware of how much my priorities shifted over time and how much of my life I wasn't living. People often warn us to "be careful what you wish for."   I say, "Be INTENTIONAL about what you wish for!" —as a goal, a dream to be realized.