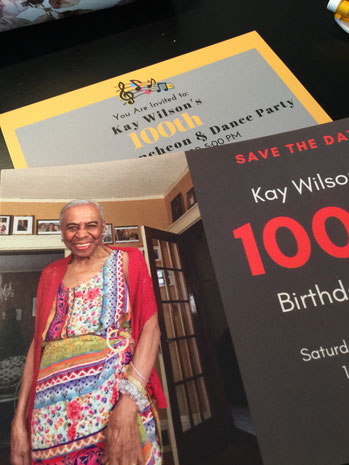 In an earlier post, I mentioned the impact my mother's retirement at age 59 had on me.  She was utterly transformed by the experience — in a good way!  Of course, pensions and benefits were different back then, and my parents also had rental income.  They were definitely financial role models, however, it was the person my mum became after retirement that inspired me most.  From traveling in helicopters for FEMA's disaster relief teams, to volunteering in the community, to swimming and tennis lessons and traveling the world, she really rocketed out of her comfort zone!
I mention this, because as black history month comes to a close, I am blessed to be planning my mother's 100th birthday DANCE party! Yes, she still has her health and her wits and she not only insisted on dancing, but she even provided the name of her favorite DJ!  But I digress....
During this month, there's always lots of programming, articles, posts and quotes on social media about African-Americans' contributions to America. As I plan this very special birthday bash, I am surrounded by older family members and friends, and it reminds me what a treasure they are. They have so much history to share. We grew up with a rich oral history.  My mom and dad both grew up in all white neighborhoods in Brighton (Boston) and Newington, NH respectively. We even saw our parents making history whether it was taking us to march with Dr. King or by participating in the movement to desegregate Boston schools.
Our elders can provide first-hand accounts of our histories, and through the telling, we see and feel the stories in their faces, the tone of their voices and the movement of their bodies. Their stories reveal their pain, passion, love, resilience and accomplishments. You will hear about the day-to-day, not just the moments that made "history". Many of our elders welcome the opportunity to share their powerful, inspiring stories.  
"A people without the knowledge of their history, origin and culture is like a tree without roots." 
Marcus Garvey
To this day, my mother actively participates in many programs supporting seniors in her community.  Most importantly, she keeps her family and many friends close —often showing up unexpectedly at the bedside of sick friends. Her sense of humor and fits of laughter are as legendary as her dancing feet!
Mine is one family's story.  Regardless of your race or ethnicity, reach out to elders you know and engage some you don't. Please, don't limit yourself to this shortest of months or to the usual content to learn about black history (aka, American history)— go deeper and broader, get personal. You never know where that journey will take you.