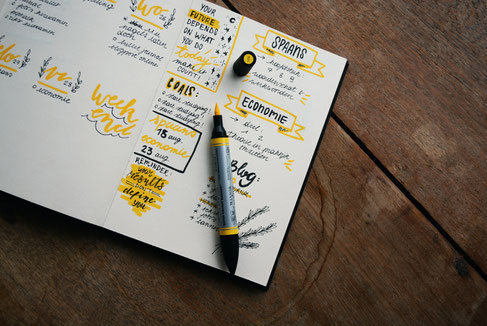 Sooooo, It's May!!  Have you made progress on reaching your New Year's career resolutions (goals)?  My first blog laid out 5 steps to take to create New Year's Career Goals that Work.  Some of you may be well on your way.  Others may be experiencing fits and starts.  Well, no worries and PLEASE, don't beat yourself up! The fact that you're reading this blog let's me know you haven't given up!  Over the next couple of blogs, you'll get more details on the steps that can help you move forward.  
Any time is the right time to get started.
My last blog focused on VISUALIZATION —what would be different if you succeeded in reaching your career goals. What you change in one part of your life has a ripple effect on the other parts and can impact how or even whether you pursue your goals.  So, I encouraged you to look at all aspects of your life and create a concrete visual of what you want (words, pictures, charts, anything that speaks to you). VISUALIZATION is often the easiest, most fun part of the process — aka dreaming. 
Now the hard work starts. Steps numbers  2 & 3 in Creating Career Resolutions that Work is to write it down and create a concrete plan that breaks that big hairy goal down into bite-sized, accessible pieces.  Your goal might take more than a year to realize. It may feel overwhelming or even unattainable. Write it down anyway. Then ask yourself "What are the component parts to this goal"?  Keep asking yourself that question, breaking it down into smaller and smaller pieces until you have actions that you can accomplish today, tomorrow or within a few weeks.  Then ask yourself what can I do next and next and next...
HOW DO YOU EAT AN ELEPHANT?  One bite at a time.
(PETA people, don't hate me, it's just a saying!)
Look for the one to three things you could start and/or finish this year that can get you closer to that goal. If you are completely changing your career, you may have a very prescribed educational and training path to follow (i.e., physical therapist, master plumber, lawyer, CPA).  If you choose something with a less formal path (project manager, app developer, hat designer), you'll have more options to get there.  A few specific courses, a boot camp or certification may be required or you might be able to develop skills by volunteering at your current job or a local non-profit.  Starting your "side-hussle" by developing apps or selling your creations online is another path open to you.  
If you're not looking for a new career, but a promotion or a new division, company, city or country, being intentional and planning will help ensure you get what is best for you vs the first thing that comes along.  Don't forget to consider  the obvious -- how your current manager or other leaders in your company can help you with your plan.  There are good and bad leaders and everything in between, so you will have to assess how best to work with your leadership team, but if you have a good one, they can be  a supportive advisor, sounding board and champion for you and your plan .
. 
Meet "Maria", who was 5 years out of college, with a Poli-Sci degree when she decided it was time to pick a career. Up until then, she worked temporary restaurant, nanny and customer service jobs so she could travel the world. Maria would actually work for 6-8 months, save all her money and then travel for 2-3 months. But she was getting tired of the constant job hunting and couch surfing between trips and she was rapidly outgrowing the youth hostel travel experience. While she knew travelling would always be in her blood, she was feeling that nesting urge —wanting her own space and more stability. After talking to many people in different careers and shadowing some, Maria chose nursing.  She could even become a travelling nurse with a few years of experience.
How Maria made it happen:
Maria's WRITTEN GOAL: 
Find a career where I can help and care for people directly, that has pay and benefits so I can live on my own in a major city, grow professionally with a schedule that allows for frequent or long-term travel.  By my 30th birthday (3 years), be entrenched on my chosen career path.
Next, Maria created a CONCRETE PLAN: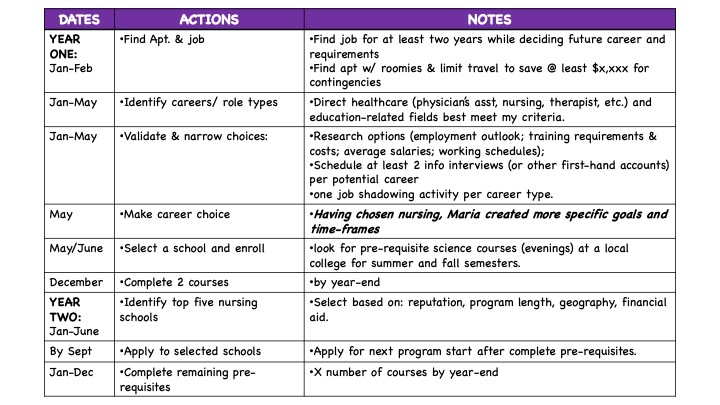 Remember:  Create the plan that works best for how you work.  For Maria, general planning by months or quarters was all she needed because she is a self-starter with no competing priorities.  Your life may be way more complex than Maria's and you may need a more detailed plan or other types of support to get going or stay on track.
BE SPECIFIC:  Actionable plans layout exactly WHAT you will do, 
HOW you will do it and by WHEN. 
Becoming a nurse would be a few years out for Maria, and there would be many more milestones, decisions and challenges along the way.  Maria's goals included lifestyle changes she needed to make to accelerate and accomplish her long-term goals. Each year she created new goals that would get her closer to the finish line.
Today, Maria is rocking her nursing career at a top hospital in a major city.  She sleeps in her own bed (no more couch surfing or crashing at the parents') and posts awesome pix of her exotic travels with friends.  What first seemed like a daunting endeavor became her dream come true!
If you're reading this thinking, "Yeah, right! My life is a whirlwind with a family, mortgage, private school fees and aging parents — a hamster wheel with no way out! ", you may find the next blog helpful. 
Next up, choosing an ACCOUNTABILITY PARTNER.